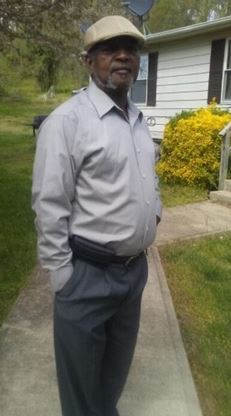 James Roscoe Curtis Jr., affectionately known as "Jamie" was born on February 20, 1951 to Mary and the late James Curtis Sr.

On May 2, 2021, James unexpectedly departed this life. James was born in Chaptico, Maryland and educated in the St. Mary's County Public School system. He then later served in the United States Army and Vietnam War.

Together with his late wife Hilda Mae (Barnes), they raised five children together (3) sons, John Barnes, James Barnes and Francis Curtis, and (2) daughters, Anita Knighten and Rosett Curtis.

He was a very hard worker and held several positions of employment throughout is life. He held positions at Calvert Cliffs, Johnson and Johnson and various maintenance.

Maintenance positions. His last place of employment was at Longview Beach where he was a Ground Maintenance worker.

James was a very kind hearted and loving person. He would help anyone in need. In his spare time, he loved fishing and working cars. He was a jack-of-all-trades and always willing to lend a helping hand. He loved his grandchildren and was a family man. Family gatherings was a great time with him. He would have everyone laughing at his stories and bad jokes.

James is proceeded in death by his late wife Hilda Mae, his father James Curtis, his son James Curtis III, his grandparents and Goddaughter Alice Baruwa.

He leaves to cherish his memories. His mother Mary Curtis (3) sons, John Barnes (Cindy), James Barnes and Francis Curtis (Stephanie), (2) daughters, Anita Knighten (Calvin) and Rosett Curtis, 22 grandchildren and 11 great grandchildren, (3) brothers, James Talbert, Francis Curtis (Vickie) and Joseph Curtis, (2) sisters, Mary Canada and Sherry Curtis (Mark). A special friend Missy Holt, Godson Elton Ashford and a host of relatives and friends.

Family will receive friends on Monday, May 10, 2021 from 10:00am to11:00am, with a Funeral Service at 11:00am recited by Reverend Demetrius Price at Brinsfield Funeral Home, P.A., 22955 Hollywood Road, Leonardtown, MD 20650. Interment will follow at Sacred Heart Catholic Church Cemetery 23080 Maddox Road, Bushwood, MD 20618.

Memorial contributions may be made to American Cancer Society, P.O. Box 22478, Oklahoma City, OK 73123 .

Condolences to the family may be made at www.brinsfieldfuneral.com.

Arrangements by Brinsfield Funeral Home, P.A.