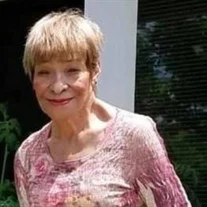 Marlene Elizabeth Corbett, 79, of Waldorf, Maryland, passed away peacefully July 13, 2021.

Marlene was born on March 7, 1942 in Hagerstown, Maryland to Justine and George Walker. She later found herself residing in Sacramento, California where she established her family with husband, Warren Corbett. She worked many years for the Federal Government, eventually retiring from the Department of Justice. She was an avid gardener who greatly enjoyed growing and harvesting tomatoes, roses, and a variety of flowers. In her earlier years, she loved playing billiards, listening to music, and caring for her precious fur-baby's. Marlene eventually settled in Waldorf after migrating back to Maryland. There she spent her final days enjoying her retirement surrounded by her family and friends.

Marlene is survived by her niece, Dawn Corbett-Ryce; great niece, Ashlie Curtin; great nephew, Arys Corbett; friends, Diane Gunther, Pam Posey, and Betty Schaefer; and a host of nieces and nephews.

In addition to her parents, she was preceded in death by her husband, James Warren Gamelio Corbett; brother, George Walker Jr.; and her beloved fur-baby's, Honeybun, Shasta Willie, Xina and Ms. Kitty.

Marlene was a kind and classy lady who will truly be missed.

Funeral services will be private.