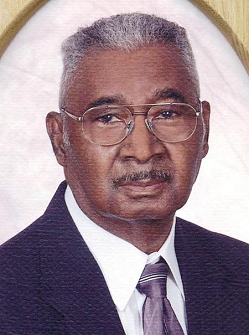 George Purnell Frederick, Sr., better known as "Purnell", 85, of Abell, MD died October 8, 2007 at his residence. He departed this life as he lived it, surrounded by the love and support of family and friends. He leaves a legacy filled with love an admirable strength.

Born August 25, 1922 in Clements, MD, he is the son of the late John Frederick and Catherine Lena (Thomas) Frederick. Of this union twelve children were born: six boys; Douglas, John Henry, William, Oscar, Joseph; and six girls; Florine, Alice, Agnes, Catherine, Henrietta and Dorothy.

Purnell was raised in Clements and was educated in St. Mary's County Public Schools. While working at Banneker School, he met Rita Dickerson of Abell, Maryland. On January 1, 1942, Purnell and Rita united in holy matrimony. Through their union twelve wonderful children were born. The Frederick's are such a loving family; they opened their hearts and adopted three children. No, it didn't stop there – they raised numerous children through out the years through the Social Services Foster Parenting Program.

Purnell joined the United States Army January 7, 1943. His first tour of duty was in Australia, June 1943. While serving his country, he received the following military honors: Good Conduct Medal, World War II Victory Ribbon, Asiatic Pacific Theater Service Ribbon and the American Theater Service Ribbon. Purnell received an Honorable Discharge on November 20, 1945 as a Technician Fourth Grade.

When Purnell returned to St. Mary's County, he worked in diversified occupations which included tobacco farming, waterman, school bus contracting and Supervisor of Custodians for St. Mary's County Schools. While in this capacity, he suggested employing physically disabled people to work as custodians in the St. Mary's County Schools – a suggestion which is still being implemented to date. In appreciation for the dedication and commitment Purnell displayed in his daily life, Leonardtown High School honored him by naming a scholarship after him – the George Purnell Frederick Scholarship Award. This award is presented to a student who has worked hard throughout the year showing leadership, humanitarianism and a scholarship. In 1952 he was an Engineer at the Patuxent River Naval Base. He retired from St. Mary's County Public School system after 27 years of service. Because of his commitment to his community he was elected to serve on the Board of Directors for the Southern Maryland Electric Cooperative. He served this appointment from July 11, 1977 until March 31, 2007. Purnell was a founding member of the Minority Business Alliance. One of the major accomplishments of this project was the development of a low income area which was redeveloped to provide better, affordable homes in the African-American community. Purnell Frederick's legacy will continue for decades to come as his image is on display at the St. Clement's Island Museum. This is truly a high honor for man who has given so much of himself to his community.

Purnell loved his family and was dedicated to his community. He was a member of a number of organizations including Knights of St. John's, the American Legion, the Teacher's Association, the Life Enrichment Development Center of Hollywood, MD, on the Board of Directors of the Oakville Community Center, Member of the St. Mary's Social Services Board and Eucharistic Minister. Purnell played an instrumental role in the development of the St. Joseph's Recreational Center.

Purnell loved God, his family, his church, his community and the Redskins.

He is survived by his loving wife of 65 years, Rita Elizabeth Frederick of Abell, MD, his devoted children, Barbara A. Thomas of Clements, MD, John Henry Frederick and his wife, Kathy of Loveville, MD, Aletha P. Barnes and her husband, Joseph of Loveville, MD, E. LaRuby Frederick and her husband, Phillip of Abell, MD, J. Douglas Frederick and his wife, Rose of Loveville, MD, Dennis S. Frederick and his wife, Kimberly of White Plains, MD, Elvis S. Frederick and his wife, Joyce of Loveville, MD, M. Doretha Davis and her husband, Donald of Mechanicsville, MD, T. Garnell Frederick of Brooklyn, MD, Mark D. Frederick and his wife, Lynn of Loveville, MD, R. La Gretta Thompson and her husband, Paul of Waldorf, MD, his adopted children, Rosalind N. Townsend and her husband, Donald of Hollywood, MD, Sean J. Frederick of Richmond, VA and Shane E. Frederick of Abell, MD, daughter-in-law, Dorothy Frederick of Waldorf, MD, two sisters, Catherine Jordan of Washington, DC and Agnes Barber of Fort Washington, MD, 37 grandchildren, 52 great-grandchildren, and 5 great-great grandchildren, as well as a host of nieces, nephews, other relatives and friends.

In addition to his parents, he is preceded in death by his eldest son, George P. Frederick, Jr., ten brothers and sisters and son-in-law, Wallace Thomas.

The family will receive friends Saturday, October 13, 2007 from 9-11:00 a.m. in Holy Angels Catholic Church, Avenue, MD, where a Mass of Christian Burial will be celebrated at 11:00 a.m. Reverend William Gurnee will be the celebrant. Interment will follow in Sacred Heart Catholic Cemetery, Bushwood, MD.

Memorial contributions may be made to Hospice House c/o Hospice of St. Mary's, P.O. Box 625, Leonardtown, MD 20650.

Arrangements by the Brinsfield Funeral Home, P.A. in Leonardtown, MD.