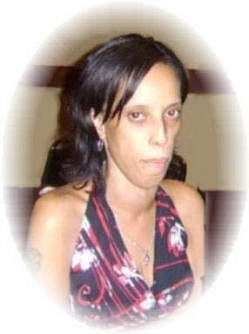 Late on Wednesday evening, April 25, 2007, at the Civista Medical Center in La Plata, Maryland, Latoya Laneice Marbury, more affectionately called Toya quietly left this life for one of no pain and all joy!

She was born on July 13, 1978 in Baltimore, Maryland to Joyce Marie Shorter and Ellis Marbury. Latoya attended D.C., Prince Georges and Charles County Public Schools.

She was diagnosed with a myriad of medical conditions. She took each new problem in stride, added more medications to the list on the fridge and moved on quietly. Toya never angrily asked, "why me?" The fast and often difficult child became a strong and determined woman, mother, sister, daughter and friend.

Lately, she decided Grandma Hazel and Aunt Carolyn weren't making cakes like they used to, so she decided to make them herself. She wasn't too bad either! Her father, brother and sons ate them so fast she started making two at a time. She loved good music, old and new. She loved to laugh and had an opinion on everything, which she was always willing to share. Toya was a friend to everyone and she thought she was very funny! She loved the internet, movies, reading, playing pokeno, playing cards and if she could have gotten paid for talking on the phone, the girl would have been a millionaire!

Her last year was one of great things both good and bad. Her pain and suffering were sometimes too much to bear. But this year, she learned and showed tremendous patience. She had to be a good patient, a willing sister, a patient mother, and a sometimes argumentative daughter. She was a single parent raising two very inquisitive young boys. Sometimes it was very hard and we guess that Toya finally said, "I'll Let Go and Let God."

Latoya leaves to cherish fond memories, her four children, Imani (12), Lataija (8), Darius (5), and Jacari (3); her parents, Kevin and Joyce Duckett; three sisters, Latisha, Stephanie and Shelly; one brother, Kevin Jr.; grandparents, John and Catherine Shorter and Hazel B. Duckett; eleven aunts, Carolyn, Sandra, Terri, Shirley Ann, Vera, Barbara, Shirley, Dorothy, Diane, Bonnie and Darlene; five uncles, Rodney, Charles, Bernard, Wesley and Joseph; two nieces, Mia and Tyler Chase; one brother-in-law, Keith Chase; nine great aunts; five great uncles; a faithful cousin, Collette Marbury and a host of other cousins, relatives and good friends.

Her Viewing will be held on Wednesday, May 2, 2007 from 8:00 am until Mass of Christian Burial, 10:00 am at St. Catherine's Catholic Church. 7865 Port Tobacco Road, Mc Conchie, Maryland. Her Interment will be in the Church Cemetery. Arrangements entrusted to Thornton Funeral Home, P.A. Pomonkey, Maryland.