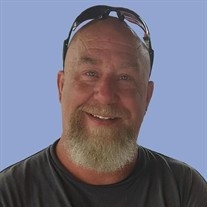 Jeffrey Alan Radtke, 50, of Waldorf, Maryland, passed into eternal life on October 5th, 2018 after a brave fifteen year standoff against kidney cancer. Born on July 11th, 1968, he was the son of the late Isabell (Williams) Radtke and the late John Radtke. Jeff is survived by his beloved wife of twenty years, Kimberly; his cherished son, Cameron; brothers John Radtke, Alan Radtke and Jason Radtke; many much loved relatives and countless friends.

Jeff spent most of his life in Charles County, graduating from La Plata High School in 1986. He served his country proudly in the Navy from 1986-1990 as a Radioman. He was employed as a Service Technician for Washington Gas. He was a member and steward of the Teamsters Union Local No. 96

Jeff loved sports and played football for the St. Charles Bears as a youth and for the La Plata Warriors in High School. He played softball in the SMAFL and two of his teams won championships in the 2000 and 2003 seasons. He was an ASA Umpire for five years, officiating games and tournaments. He enjoyed playing cards, particularly poker. He loved a ride on his Harley.

Jeff cared about his community and gladly gave his time and talents to many organizations. He volunteered as a coach for the St. Charles Bears and the La Plata Blue Knights. He had served as President of the Malcolm Elementary PTA and President of the Pinefield Civic Association. He was a member of The American Legion Post 227 and a member of the Thomas Stone Chapter of The Sons of the American Revolution.

Jeff had a caring heart and an outgoing nature. He had the gift of gab and never met a stranger. If you needed help, he would be there fast- usually with a couple other friends he found on the way. He loved to plan parties, reunions and any excuse for a get together was a good one. Right up to the end, Jeff spent his life as he always had- encircled in the constant company of the family and friends he loved so dearly.

Family and friends received on Monday, October 15th, 2018 from 10:00 AM until time of Funeral Service at 12:00 PM at the New Life Wesleyan Church, 9690 Shepherd's Creek Place, La Plata, Maryland 20646. Interment to follow at Cheltenham Veterans Cemetery with Military Honors. Memorial contributions may be made to Hospice of Charles County, 2502 Davis Road, Waldorf, Maryland 20603. Arrangements by Raymond Funeral Service.