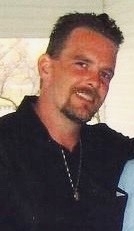 William Scott Chenault, 46, of Huntingtown, MD passed away October 7, 2018 at George Washington University Hospital in Washington, D.C. Scott was born July 26, 1972 in Montgomery County, MD to William S. and Linda Lou (Pearson) Chenault. He was raised in the Viers Mill Village community in Wheaton, and graduated from Wheaton High School in 1991.

He was employed as an automobile mechanic, and later as a tow truck driver and automobile transport driver, and owned and operated TCB Transport with his father. In his leisure time Scott enjoyed hunting and fishing, tinkering with cars, comic books, collecting baseball cards, and playing poker, especially in poker tournaments. He also loved spending time with his family.

Scott is survived by his father William S. Chenault of Huntingtown, his children William Scott "Will", Jr., and Kaitlyn, Amanda and Olivia Chennault, all of St. Leonard, and a nephew Travis Reyes of Annapolis. He was preceded in death by his mother Linda Chenault. Arrangements by Rausch Funeral Home.