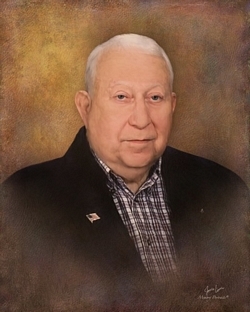 Wayne Hotz Bennett Jr., 90, of Waldorf, MD passed away on Friday, March 20, 2020 at his home surrounded by his family after a brief illness. Wayne was born March 5, 1930 in Reading PA to the late Wayne H. Bennett Sr., and Kathryn Guldin Bennett. He was the grandson of Edwin Bennett and Lydia Hotz Bennett and Edwin Guldin and Agnes Koch Guldin. He was proceeded in death his wife of 67 years Dorothy "Dot" Lee Beall Bennett.

He is survived by his son Richard Wayne "Rick" Bennett and his daughter Nancy Lee "Nanny" Bennett. He is also survived by his sisters Shirley Bennett Hoeft of Roseville MN., and Carolyn Bennett Harding and her husband John of Southern Pines NC., and Sister-in-law Anne Beall Fichera of Stevensville MD.

He grew up in PA and Washington DC, living 28 years in Marlow Heights with his wife, and mother-in-law Olive Alsop Beall. Wayne's greatest treasure was his wife Dot whom he shared the same birthday March 5th, and his son and daughter Nancy and Rick. He enjoyed gardening with his family and watching his favorite sports teams the Washington Capitals, Washington Redskins, Washington Nationals, Washington Wizards, and Southern MD Blue Crabs. He loved the yearly family trips to Ocean City, and his biggest joy was decorating our home for Christmas and our family Christmas traditions.

Wayne worked as a Supervisor for 39 years for Bell Atlantic/C& P Telephone/Verizon. He was very loved by his co-workers and employees. He proudly served in the United States Marine Corps with 3dBn. 2d Marines. 2d Marine Division. FMF., during the Korean War. He also proudly played the trumpet in the Marine Corps Band and in his high school band and his church.

Wayne and his wife were very dedicated to their nieces and nephews, Betty, Peggy and Bill Adams, Tricia and Joey Fichera and the late Sharon and Tony Iacone all of MD. Also, Cheryl, Debbie, Marty Jay, and Amy Hoeft of MN and Heather and Hilary Harding of NC and MD. Also, to extended family member's taking care of many of them, their house was always open to all family.

In lieu of flowers, memorial donations may be made to: Good Shepherd United Methodist Church, 305 E. Smallwood Drive, Waldorf Md, 20602 or the Hospice of Charles County, Davis Road, Waldorf, MD 20603. All services will be private. Arrangements by the Brinsfield Funeral Home & Crematory, P.A.