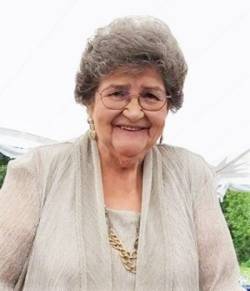 Christine Ann Boyer, 81 of Lexington Park, Md. passed away April 2, 2020 at MedStar St. Mary's Hospital in Leonardtown, Md. with her family at her side. She was born on May 6, 1938 in Shamokin, Pa. to the late Elmer Faust and Cecilia Burns Faust.

Christine was an amazing mom and "Grammy" who continually took an active role in her family's lives from the time they were little into adulthood. She was a wonderful friend to many people and the words sweet, caring and giving were words often used to describe her. She loved the holidays especially Christmas and her house was always decorated inside and out. She took great pleasure in hosting her annual Christmas Eve parties. She was an incredible crafter who made gorgeous silk flowers arrangements and many other crafts. She was a gambler at heart and loved to play the slot machines. A die-hard sports fan, she never missed watching her Washington Nationals on TV. Christine was employed many years as a dedicated store manager at the Navy Exchange until her retirement in 1984.

Christine is survived by her children David Boyer (Becky) of Great Mills, MD and Sharon Boyer of Lexington Park, MD, her sister, Joan Kobilis of Edison, New Jersey, her grandchildren: Kyle Boyer, Sarah Faust (Nate), Kristen Pierce (Lance), Brayden Harms, and Mathew Harms; and many extended family and friends. In addition to her parents, she is also preceded in death by her husband, Donald Eugene Boyer, and her siblings: Mary Mace, Elmer Faust, and Terry Faust.

A Mass of Christian Burial will be celebrated at Immaculate Heart of Mary Catholic Church, 22375 Three Notch Road, Lexington Park, MD 20653. Interment will follow in the church cemetery. Due to COVID19 Pandemic all services will be private.

Memorial contributions may be made to St. Jude's Children's Research Hospital or Lexington Park Volunteer Rescue Squad, P.O. Box 339, Lexington Park, MD 20653.

Condolences to the family may be made at www.brinsfieldfuneral.com.

Arrangements by the Brinsfield Funeral Home, P.A.