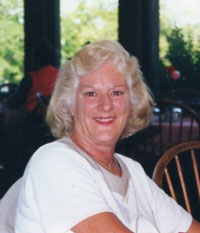 Joan Kay Norton age 84, of Solomons, Maryland passed away after a steady decline in health Sunday, June 21, 2020 at the Solomon's Nursing Center in Solomons Maryland.

Joan was born November 4, 1935 in Washington D.C, the daughter of Reuben Francis Leatherwood and Sarah Estelle Derrick. She is survived by her ex-husband Col (Ret.) Philip F. Norton (Suzanne) of Springfield, VA, her son Paul F Norton (Lori), of California, MD, her daughter Kay N. Sears (Bill), of Littleton, CO, her grandson Travis Norton of Carbondale, CO, her grand-daughter Savannah Norton of Olympia, WA, her grand-daughter Eleanor Sears of Houston, TX and her grandson Grant Sears of Parker, CO.

Joan grew up in Washington D.C. and graduated with the class of '53 from Bethesda-Chevy Chase High School. After attending 2 years of college at the University of Tennessee, she went to work full time for the National Institute of Health until 1958 when she married Philip F. Norton at Eldbrooke Methodist Church in Washington D.C, where she taught Sunday school. Joan was a proud military wife for 26 years, raising 3 children, and serving in various volunteer positions on base as the family moved from base to base twelve times, including overseas. Tragically, Joan lost her only brother, Donald, in 1961 and her revered mother in 1999. She also lost her eldest son, Jeffrey, to spinal meningitis in 1974. She worked as a realtor in Virginia for 10 years from 1975-1985 and retired with Phil in Alexandria, Virginia. In her later years, Joan enjoyed spending time with family, traveling, and rooting for the Washington Redskins. Her fondest memories are the good times spent playing cards with family and friends at her cabin on the Cacapon River in Yellow Spring, WV. Affectionately called "Mema", what Joan loved most was doting on and worrying about her four grandchildren. Joan moved with Phil to Breton Bay in Leonardtown, MD in 2000 after falling in love with the charms that Southern Maryland living offers. She and Phil divorced in 2009 and she moved into the Wildewood Retirement Village in California, MD. She was a member of the Patuxent Presbyterian Church and often spoke of a time in the future when she would "go to live with Jesus".

A private family memorial will be planned for a future date. In lieu of flowers, a donation would be welcomed at Joan's favorite charity, St. Jude Children's Hospital.