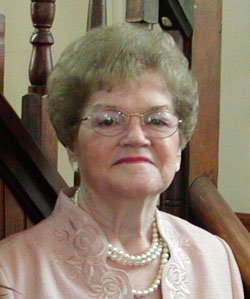 Alice Teresa Abell Spalding of Hollywood, MD died peacefully at her home on June 23, 2020 surrounded by her loving family.

She was born January 6th, 1935 to Mary Louise Wood Abell and Joseph Ethelbert (Bert) Abell. On July 26th, 1952, she married her one true love, Samuel Chapman Spalding, Sr.; and together they had 10 children. They enjoyed 63 years of marriage and weathered the heartache of burying three of their children before he passed in 2016. Teresa, aka "Mother Teresa" or "The Queen", enjoyed being a homemaker and most especially being a mother, grandmother, and great-grandmother. She was Mom Mom to many little ones who were not related to her. She never asked for or needed much. She was happy getting her weekly hairdo's, eating a sausage and egg McMuffin once a week on Saturdays, playing cards with her sisters, occasionally playing the slot machines, and of course one of her favorite pastimes playing bingo. If you came to her house, you could expect to be warmly welcomed (unless her hair wasn't done or you showed up at nap time), well fed, and any babies in tow to be spoiled. Even when her health started failing, she brightened up instantly when the children came in. The Pandemic was hard on her because she missed the children terribly and it took an even greater toll on her health. Her surviving children were devoted to her care the last few years and were honored to be there for her final days and hours on this earth. She also enjoyed the love and support of some special caregivers and hospice angels.

She is survived by her children, Betty Smith (Gordy), Becky Felix (Arnie), Anna Long (Gary), Sharon Farr (Jerry), Kathy Dean (David), Jenny Boothe (Wayne) and Jeff Spalding (Teresa); daughter-in-law Vicky Spalding; her sisters Dorothy Clarke and Mary Lou Bassford. In addition to her husband, she was predeceased by her son, Sam Spalding Jr. and two daughters, Valerie Sue (stillborn) and Karen Ann Spalding; also by her brother Bert Abell Jr and sisters Irene Hayden, Juanita (Nita) Hayden, Margaret Jane Mattingly, and Agnes (Piggy) Joy, and a special aunt who she was named after, Sister Alice Teresa Wood. She leaves 18 grandchildren and 29 great-grandchildren. Now that she is free in the arms of the Lord, may she enjoy reuniting with pre-deceased relatives and dancing once again with her beloved Sammy to their favorite song "Look at Us".

A Mass of Christian Burial will be celebrated by Reverend Raymond Schmidt on Wednesday, July 1, 2020 at 11:00 a.m., at St. John Francis Regis Catholic Church, 43927 St. John's Road, Hollywood, MD 20636. Interment will follow in the church cemetery.

Pallbearers will be her grandsons, Ricky Russell, Gary Long Jr., Ryan Farr, Jason Long, Stephen Spalding, Todd Farr, Derek Dean, Tony Ciarleglio, Robbie Boothe, Kyle Boothe, and Jeff Spalding Jr. Honorary pallbearers will be grandson, Jeff Smith and granddaughters: Kelly Morris, Keri Tarleton, Shannon Armsworthy, Kristen Riley, Rachel Amburn, and Ally Boothe.

In lieu of flowers, donations can be made to St. Mary's Hospice, P.O. Box 625, Leonardtown, MD 20650; St. John's Church, 43950 St. John's Road, Hollywood, MD 20636, or ACTS (A Community That Shares) P.O. Box 54, Bushwood, MD 20618.

Condolences to the family may be made at www.brinsfieldfuneral.com.

Arrangements by the Brinsfield Funeral Home, P.A.