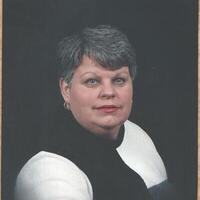 Patricia Joyce Frank, 66, of Tall Timbers, MD, passed away peacefully on February 1, 2021 at Hospice House of St. Mary's County in Callaway.

Patricia was born on January 11, 1955 in West Point, NY to Patricia J. Fowler Stewart and the late William L. Stewart.

Patricia was born and raised in the Hudson Valley and left to attend college in Florida. Life moved her to North Carolina then Philadelphia, finally moving to Maryland in 1995 where she made St. Mary's County her home. Even though she was raised in the North, she embraced the southern lifestyle including the tradition of preparing and eating stuffed ham, oysters, and Maryland crab. She was employed at McKay's working in the deli and bakery for 19 years before retiring in 2017. Her job fit her well because of her passion for cooking and baking. Patricia led an active lifestyle, participating in many groups and clubs, as well as keeping up with her many hobbies, such as scrapbooking, making cards, gardening, and watercolors. She was a Ham Radio operator throughout her life. She also followed NASCAR and the Washington Redskins. She loved going to the opera and to plays. She was the president of the UMW Women's Group for First Saints Community Church of Saint George Island, where she also attended service and taught Vacation Bible School. She was also the Church Historian. One of her interests was researching her family history as well as helping others do theirs. This led her to become a member of the St. Mary's County Genealogical Society over 20 years ago. She was also an active member in the Red Hat Society. She was a "people" person who loved to start up a conversation. Everyone looked forward to her annual Christmas letters. Patricia loved her fur babies, Elsie and Johnny Cash, more than anything.

In addition to her mother, she is survived by her siblings, Shirley (Nelson) Stewart Lam of Cheektowaga, NY, Marilyn (Alex) Julia Lechner of Walkill, NY, and Rubyann (Steven) Marie Raizman of Poughkeepsie, NY and several nieces and nephews. She was preceded in death by her siblings Victoria June Stewart and James David Stewart. Her long-term partner Charlie Saine died in 2016.

Family will receive friends for Patricia's Life Celebration on Monday, February 8, 2021 from 5:00 P.M. – 7:00 P.M. with a 7:00 P.M. prayer service at Brinsfield Funeral Home, 22955 Hollywood Road, Leonardtown Maryland. Due to Covid-19, the service will also be streamed through the Brinsfield website beginning at 6:45 P.M. It will also be available after the service for several weeks. She will be interred at Cedar Hill Cemetery in Newburgh, NY with her grandfather, James Sutton Fowler, who called her Doodlebug.

In lieu of flowers, memorial contributions may be made to Hospice of St. Mary's, P.O. Box 625, Leonardtown, MD 20650 or to First Saints Community Church of St. George Island.

Condolences may be made at www.brinsfieldfuneral.com.

Arrangements by the Brinsfield Funeral Home, P.A.