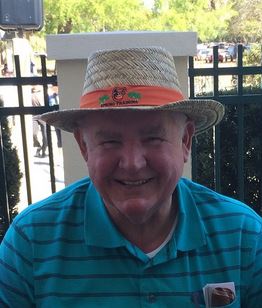 Wayne William Grover, 80, loving husband of Joan Cross Grover, of St. Leonard passed away at home surrounded by family and friends on Tuesday, February 2, 2021.

He was first and foremost a family man. He deeply loved his family and worked hard to provide, support, and take care of them. He loved spending time with his wife and children, being on the baseball or softball diamond or in the stands, watching the Orioles, going to the movies, traveling, and countless other adventures. He was a soccer player, first baseman and a softball pitcher, an avid bowler, a dedicated little league sports coach, and a little league baseball and softball umpire. As an unofficial movie critic, Wayne reviewed and watched hundreds of movies at the local theaters in St. Mary's and Calvert and if you asked he could tell if it was worth the ticket. When not taking in the excitement of a good movie Wayne loved to play cards. He shared his passion for a well-groomed lawn with his sons and helped his son, Wes, form his landscaping business. For many years, he cut grass all day on the first Gravely lawn mower he helped Wes get for the business.

After graduating Calvert County High School in 1958, Wayne joined the Air Force. One of the great honors in his life was to serve as Honor Guard for President Eisenhower when Alaska became a state. Wayne was a member of the Optimist Club of Calvert, Boumi Temple Baltimore, American Legion Post 274, and Prince Fredrick Masons Lodge No. 142. He was a proud public servant, businessman, son, father, cousin, grandson, and husband.

Wayne is survived by his wife of 55 years together: Joan Cross Grover, his children: Timothy Wayne, his wife, Tammy, and William Wesley Grover, his as though married wife, Helen, and grandchildren: Tyler, Tara, Morgan and Madison. He is preceded in death by his parents: William Wesley and June Elliott Laverne Grover and his sister, Joyce White, all formerly of St. Leonard. He loved his family and would do anything for them. He had a full life and was deeply loved. He will be deeply missed by all of his family and many friends.

Due to COVID-19 restrictions masks will be required by all guests at Rausch Funeral Home, Port Republic, and St. Paul United Methodist Church in Lusby. Memorial contributions can be made to the Boumi Shriners and the St. Leonard Volunteer Fire Department and Rescue Squad.