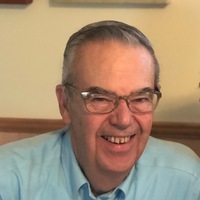 Donald Gale Cooke, 80, of Mechanicsville passed away surrounded by his family on February 6, 2021. He was born in Baltimore, MD to the late Elmon and Edith Cooke on April 19, 1940. He is survived by his siblings William Cooke (Kathy) and Patricia Rawlings (Bill). He was preceded in death by sisters Elizabeth ("Betty") Flerlage and Adele Peed and grandson Brogan Kade Ruppert.

Don married the love of his life Kitty (Townshend) on May 21, 1960. He is survived by his son Gregg Cooke and Melinda Cooke Ruppert and son in-law Kobey Ruppert. He is also survived by two grandchildren Keilan Chayce Ruppert and Leah Cooke.

Don served a printing apprenticeship in 1961 and then worked as a hot metal typesetter. Over the years he held various positions in the printing industry which included starting his own company, Marco Composition. He ended his lifetime of hard work as a bailiff for the Circuit Court of Calvert County, retiring in 2018.

Don was a "jack of all trades" such as doing different jobs such as car repair, carpentry, plumbing, electrical repair and home renovation. His love for his faith and church led to projects and service that included producing and printing the church bulletin, lay reader, Eucharistic minister and acolyte training. He had a passion for community involvement and was a former member of the Brandywine VFD, Brandywine Lions Club, Community Support Systems and the Masonic Lodge.

Don was diagnosed with mild cognitive impairment in 2011. Alzheimer's eventually took over his life but he remained the same calm, funny, patient and cooperative person he always was; always wanting to help others. Alzheimer's stole a lot from him but did not diminish his hearty laugh and creative one liners. A fall on January 20th changed all of that and his whole world, and ours, crashed. After just a few short days in hospice care and with compassionate caregivers at home he was comforted and loved by his family until his final hour.

Family will receive family and friends for Don's memorial service on Saturday, February 20, 2021 from 1:00-3:30 pm at Brinsfield Funeral Home & Crematory, Charlotte Hall. A Masonic prayer service will begin at 1:45 followed by a memorial service officiated by the Reverend John Ball. Interment will be held in the spring. In lieu of flowers donations may be made to Masonic Centennial Lodge 174, Upper Marlboro (scholarship fund), Hospice of St. Mary's and St. Paul's Episcopal Parish, Baden, MD.