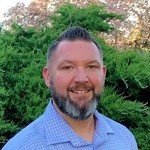 On Monday, February 8, 2021, Joseph Kovalcik of Cape Coral, FL, passed away at age 33.
Joseph was born on February 9, 1987 in Leonardtown, MD to Mark and Ann (Gough) Kovalcik of Chaptico, MD. He graduated from Stevenson University in 2012 and enjoyed exploring various career paths in the years since. From camp counselor and hospitality management to being a top car salesman, Joseph wanted to try it all and meet as many people as he could along the way.

In 2019 Joseph moved to Cape Coral, FL to fulfill his dream of living at the beach. He found peace in the salt air and sunshine, success in his career, and community with the friends he made.

Many who knew Joseph describe him as having "the biggest heart." With that heart, he loved his family, he loved God and his creation, and he loved to travel and experience new cultures, foods and perspectives. His kindness and compassion for others led him on a mission trip in Guatemala and to be a counselor for Muscular Dystrophy Association camp. Joseph's most notable passion was working out at the gym and he shared that passion with others by creating personalized work out plans and encouraging them along the way.

In life, as in the gym, Joseph was known for facing challenges head-on, growing from them and using the wisdom he gained to help others do the same. He is remembered as having a hopeful, optimistic, and at times, humorous disposition.

Joseph was preceded in death by his grandparents, Joseph and Janet Kovalcik. He is survived by his parents, Mark and Ann Kovalcik, his sister, Maura Winebrenner (Matthew) of Parkville, MD, his grandparents, Francis and Louise Gough of Chaptico, MD and several aunts, uncles and cousins.

The Family will receive friends on Wednesday, February 17, 2021 from 9:00 AM to 10:30 AM in the Mattingley-Gardiner Funeral Home Leonardtown, MD . A Mass of Christian Burial will follow at 11:00 AM in Our Lady of the Wayside Catholic Church Chaptico, MD with Father Jerry Gamrot officiating and con celebrating Father Chip Luckett. Interment will be private. Serving as pallbearers will be Mark Weaver, Matthew Winebrenner, Matthew Norris, Robert McGrain, Joseph Gough, and Joseph "Joey" Gough. Honorary pallbearers will be Frank Gough, James McGrain and Jeff LaBille.

Contributions may be made to Serenity Farm Farming for Hunger P.O. Box 2348 Prince Frederick, MD 20678.