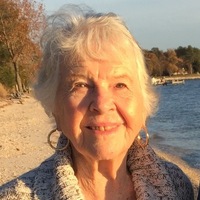 Rebekah Wilmer Jarboe, 95, of Charlotte Hall, MD, passed away peacefully on Wednesday, May 20, 2020 at the Hospice House of St. Mary's. Born February 14, 1925 in Popes Creek, Maryland, she was the daughter of the late William Bruce Matthews Wilmer and Elizabeth Garst Wilmer.

Rebekah graduated from Glasva High School and then College of Southern Maryland. She was a proud housewife. She spent her life dedicated to her family and cherished being a constant support for them as she raised them to prosper and live their own lives.

Rebekah married Joseph Merton Jarboe at St. Ignatius Chapel Point Church in Port Tobacco, MD on October 20, 1951. Together they raised four children and had four grandchildren and three great-grandchildren. Her family is feeling comfort in knowing she is now reunited with Merton in their golden palace in heaven.

Rebekah loved to garden and spent many hours under a brilliant blue-sky doing yard work. She found great peace in being outdoors. An avid traveler, Rebekah kept up with local, national and world news. She knew knowledge was an attribute and never stopped exploring.

She is survived by her son Lawrence Jarboe (Carlene), son Pere Jarboe (Martha), son Stephen Jarboe and daughter Rebekah Guyther (David); four (4) grandchildren: John Jarboe, Jodi Jarboe Distefano, Andrew Guyther and Benjamin Guyther; three (3) great-grandchildren Andrea, Ayanna and Dominick Distefano.

Along with her parents, and husband, Merton, she is also preceded in death by her brother Bruce Wilmer and sisters Cynthia Wilmer and Elizabeth Wilmer Marsh.

Memorial contributions may be made in Rebekah's name to the Mechanicsville Rescue Squad, Post Office Box 15, Mechanicsville, MD 20659.