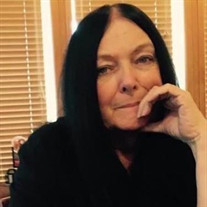 On Wednesday, May 20, 2020, Gail Louise (Mihill) Hall, age 71, passed from this world after a valiant struggle with post-surgical complications and stomach cancer at Georgetown University Hospital ICU.

She leaves behind her husband of 49 years, Ron Hall; daughters, Lona Hall and Paula (Sean) James; son, Galen Hall; grandchildren, Abigail (Ben) Lindley, Josette Myers, Mark Myers, Ronan Hall, Kyle Hall, Elizabeth James; and great granddaughter, Rain Lindley. She is also survived by her sisters, Cathy Shaw, Peggy, Patsy; and brothers, Kenny, Winifred, Richard, and William. Besides her parents, she was predeceased by brothers, Tommy, Darwin, and Allen.

Gail was born in Wilmington, New York to the late Winfred and Goldie Mihill and raised in West Hyattsville, Maryland by the late Norman and Blanche Mihill, her adopted parents. She attended Northwestern High School in Hyattsville, Maryland and worked for the U.S. Labor Department in Washington, DC upon graduation. She met her husband, Ron, at a high school track meet in 1966 at Northwestern High School (vs visiting Suitland High School, his school). As she was sitting in the bleachers, he started a conversation that kindled their romance. They were married in September 1970 and eventually settled in Waldorf, Maryland in 1979 to raise their family. She was a loving and devoted wife, mother, grandmother, great grandmother, and homemaker who was called Nonnie and loved by all. Her good heartedness, kindness, and self-sacrificing for all endeared her to her family and all those who knew her. She was a devoted Catholic and attended Our Lady Help of Christians Catholic Church in Waldorf, Maryland.

Due to coronavirus mandated restrictions, only immediate family members will be allowed to attend services and interment.

In lieu of flowers, contributions to Charles County Children's Aid Society (https://www.childrens-aid-society.org/) would be appreciated.