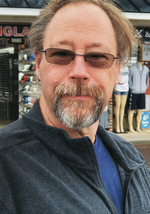 Donald Peter Howd, Jr., age 54, crossed over the Rainbow Bridge (as he would say) suddenly and unexpectantly on Saturday, May 23, 2020. Don was born on July 12, 1965 to the late Don Howd, Sr. and Jean (Frick) Howd and was raised in New Jersey. Don was the oldest of four children and he loved his family with all his heart.

Don was an honorable man who loved serving his country in the Navy. He was proud to serve his country and maintained his patriotism until the end; how fitting that his watch ended on Memorial Day weekend. Don made many lifelong friendships along the way as he was a part of the commissioning of the USS Harry S Truman (CVN-75) twenty-one years ago.
Don leaves behind his cherished, beloved wife, Juliet. His sons Don Howd, III of Hollywood, MD; G.J. Dawson (Brianna) of Cambridge, MD; Tyler Todd (Jessica) of Hurlock, MD. Don's grandchildren- Destni, Ian, and Jaxsen. Don's siblings- Steven Howd (Toni) of Hawaii; Karen Cook (Kevin) of Middleboro, Massachusetts; Kristina McGowan (Christopher) of Salem, Massachusetts. Also, Don leaves behind a host of loving nieces and nephews.

Don married the love of his life, Juliet on October 19, 2007. He loved always calling her his Bride as the love that they shared was immeasurable. Together they had made a beautiful family; looking forward to their retirement years together; making more memories with each other as well as with family and friends.
Don was an incredibly talented guitar player and loved to listen to music and enjoy time with family and friends celebrating life and freedom itself. Music was certainly a passion of his. Also, he enjoyed cooking for his family and friends.

Don was a man who did not know a stranger. His personality would keep you on edge because he had a dry wit and good-natured sarcasm with his Jersey sense of humor and honesty, which we all cherished. He was an extraordinary friend that would be there for you in best of times and the worst of times in life as he truly had a heart of gold. Don made such a positive difference in each and every life that he touched.
Fair winds and following seas until we meet again, Sailor.

Well done Sailor and we now have the watch so may you Rest in Eternal Peace.

Services will be private as Don will be honorably laid to rest at Cheltenham Cemetery, Cheltenham, MD at a later date.

Memorial contributions may be made in honor of Don to the Charlotte Hall Veterans Home in Charlotte Hall, MD.