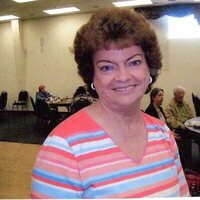 Mary Carolyn Pruitt, 79, a life-long resident of Waldorf, MD, passed away peacefully at Southern Maryland Hospital Center on April 29, 2021.

She was born in Washington, D.C. October 26, 1941 to the late Joseph Irvin Middleton, Sr. and late Carolyn Hanson Middleton (Claggett). She was one (1) out of five (5) children.

Mary worked as a secretary, for the government's Department of Navy for eleven (11) years before her retirement in 2001. When she retired, she was so happy to spend more time with her sons and four (4) grandchildren. She would take them for lunch and spoiling them every chance she got. When she wasn't spending time with her family, she would often be found watching her guilty pleasure, the Hallmark Channel or playing bingo with her friends. Mary was a joyful, loving woman with a smile that would light up any room and a laugh as free spirited as her soul. She cherished her family more than anything and she will be greatly missed by many friends and family.

Mary is survived by her sons, Joseph Pruitt (Dawn) of Colonial Beach, VA and Daniel Pruitt (Tiffany) of Waldorf, MD; her brothers, Irvin Middleton Jr. of Loris, South Carolina, John Middleton of Waldorf, MD, Richard Middleton of Waldorf, MD and her sister Joyce Middleton of Waldorf, MD; four (4) grandchildren and one (1) great-grandson. She was preceded in death by both of her parents, Joseph Irvin Middleton, Sr. and Carolyn Hanson Middleton and her sons William Pruitt and Jeffery Pruitt.

Family will receive friends Tuesday May 4, 2021 at 5:00 p.m. until 8:00 p.m. for her Life Celebration with Prayers at 7:00 p.m. officiated by Deacon Henry Middleton at Brinsfield Funeral Home & Crematory, 30195 Three Notch Road, Charlotte Hall, MD 20622. The Funeral Service, officiated by Father Woods, will be held Wednesday, May 5, 2021 at 10:00 at St. Peters Catholic Church, 3320 St. Peters Dr, Waldorf, MD 20601 with Interment immediately following.

Condolences to the family may be made at www.brinsfieldfuneral.com.

Arrangements by the Brinsfield Funeral Home & Crematory, P.A.