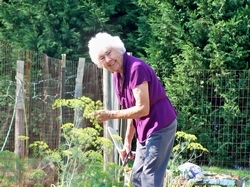 JoLoyce Frances Holmes, 97, departed this life peacefully on Friday, April 30, 2021 in Prince Frederick, Md., surrounded by family. JoLoyce was born in Luvern, MN to the late, Jess Searles and Clara Searles (Warne).

She was a sweet woman who loved her Lord, children, grandchildren, great-grandchildren, and all her nieces and nephews. JoLoyce enjoyed anything dealing with nature. She grew up on a farm in Beaver Creek, MN and loved telling stories about it. She loved fishing, crabbing, baking, watching birds but her true passion was gardening.

JoLoyce is survived by her daughters, Amy Simmers (Edward) of Sheffield, AL and Jessica Holmes of Lusby, Md.; grandchildren Robert Redmond (Lynn), AmyJo Payne (George), Jill Coleman (Todd), Norma Rae George, JoLoyce O'Malley, and Heather Thaxton (Michael). Her great-grandchildren Nick, John, Daniel (Kelsey), Kevin (Rachael), Shannon (Dakota), Jorrell, Justin (Tia), Jade, Wesley, Ashley, Bentley, Katie, Tyler, Ethan, Jackson, and her great-great grandchild Garrett.

She was also preceded in death by her husband Amos Arthur Holmes and her daughter Ethel Redmond, brothers and sisters Donald, Ruth, Jack, Marian, Jim, Clevonne, Bill and Joe.

She resided at the Asbury retirement community in Solomons, Md. living independently. She enjoyed being there, living on the water, and had so many wonderful friends. Memorial contributions to Asbury Foundation (in memo AS Benevolent Care) 11100 Asbury Circle, Solomons, Md. 20688.