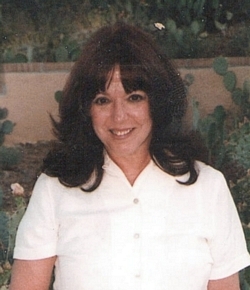 Sharon Ann (Jones) Lester, 74, of Solomons, Md., passed away on June 1, 2021 at her residence. Born January 21, 1947 in Washington, DC, she was the daughter of the late Carl Thomas Jones and Doris Frances (Lawson) Jones.

Sharon has had a long history on Solomons Island starting in the early 1950's when she and her family spent many memorable summers. With her brother Tom and their cousins Mike and Linda and friends, they enjoyed boating, fishing, skiing, crabbing, and swimming in the waters around Solomons. Sharon graduated from Surrattsville High School in 1965. She married Joseph Richard Lester at New London Presbyterian Church in New London, PA, in 1987, and moved to St. Mary's County and then to Solomons permanently in 1995. Sharon was a homemaker and although she did not have children of her own, she was an aunt to six nieces and nephews. When Tom's children Jake, Molly and Matt visited, Sharon enthusiastically shared her knowledge and love of the Bay with exploration and activities for them. Alex, Chris, and Casey lived next door, so she was not only an aunt, but second mom to them. She patiently taught them how to bake, plant flowers and vegetables, and most importantly, how to clean a crab in record time, without wasting a bit of crabmeat. Sharon organized many crab feasts! She spent a lot of time with them on the beach teaching them how to crab, fish, how to save horseshoe crabs stuck in the rocks, and just about nature in general. They spent many nights with Sharon and Joe and have fond memories and stories to tell. Sharon touched the lives of many, always with a smile, despite her health issues. She will be missed dearly. The wonderful memories we have will become our strength in the days, months, and years to come.

Sharon is survived by her husband, Joseph Richard Lester; her sister, Donna Sue (Jones) Fabian and her husband Louis of Solomons, Md.; and her brother, Carl (Tom) Jones, Jr. and his wife Ellen of Vancouver, WA; and nieces and nephews, Jacob, Molly, Matthew, Alexander, Christopher, and Casey.

A graveside service will be conducted by Chaplain Bill Miller on Friday, June 4, 2021 at 1:00 p.m. at the Solomons United Methodist Church Cemetery, Solomons, Md.

Memorial contributions may be made to Calvert Hospice, P.O. Box 838, Prince Frederick, Md. 20678.

Condolences to the family may be made at www.rauschfuneralhomes.com.