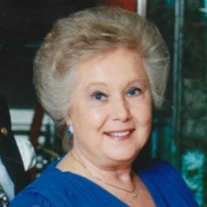 Estelle Arscott, 88, of Dunkirk, MD, surrounded by family, peacefully transitioned to her eternal rest on Tuesday, June 8, 2021, after a lifetime devoted to family, friends and community.

Estelle was born February 2nd, 1933, in Washington, DC, to the late Elmer and Agnes Rohls. She is preceded in death by four brothers and one sister. Estelle leaves to cherish her memory, her husband of 65 years, Bob Arscott, Sr; sons, Bob Jr. (Doreen), Mike (Loretta) and Ken; brother Carl (Ellen) and sister Mary; six grandchildren and eight great-grandchildren.

She was raised in Charles County, MD. She loved to bowl (duckpin), having bowled every week for 40 years. She was an avid Redskins, Nat's and Caps fan. Her love for her community, garden club, and helping those in need was something she cherished. She will be missed by all who knew her.

The family invites friends to Lee Funeral Home Calvert, 8200 Jennifer Lane Owings, MD 20736 on Friday, June 11, 2021 from 3:00 PM – 7:00 PM where a Funeral Service will be held on Saturday, June 12, 2021 at 11:00 AM in the Funeral Home Chapel. Interment will follow at Southern Memorial Gardens Cemetery, 10155 Ward Road Dunkirk, MD 20754.