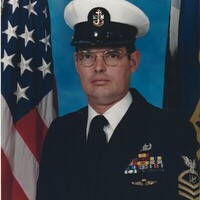 WTC (DV/PJ) Charles John "Charlie" Galbreath, Ret., USN, 76, of Waldorf, MD departed this life on Friday, July 16, 2021 at MedStar Washington Hospital Center in Washington, DC. He was born on April 9, 1945 in Norfolk, VA to the late William Robert Galbreath and Frances Elizabeth (Meachum) Galbreath.

A kind, generous man who was dedicated to his family, Charlie was blessed to have met the love of his life, Chieko Nozaki Galbreath and make her his bride. They've been happily married for over fifty-four (54) years and welcomed their cherished daughter, Lisa. Charlie loved being a husband and father and eventually a grandfather to his beloved, Abigail.

Charlie was a proud American, who served his country throughout his life. He enlisted in the United States Navy as a young man in September, 1963 and fought in the Vietnam War and later was involved in Operation Desert Shield/Desert Storm. Charlie was devoted to his country and made a career of his military service. Throughout his career, he earned many accolades for his dedicated service. He retired as a Chief Petty Officer from the Navy, but would continue his support of the government by working for various government contractors as a UXO/Demolition Supervisor.

A patriot through and through, he was an active member of the Veterans of Foreign Affairs and the American Legion Post 0297. Charlie believed deeply in the 2nd Amendment and was a life time member of the National Rifle Association, St. Charles Sportsman's Club, and the Northern Virginia Gun Club. Charlie loved to go to the rifle range to target shoot. His interest in firearms had him learning the art of gunsmithing and kept him avidly reading about military history. When he just wanted to sit back and relax, he enjoyed doing Sudoku puzzles.

Above all, Charlie loved his family and enjoyed spending his time with them. He was proud of his granddaughter and found so much happiness just being with her. He would share stories and anecdotes about life and she will be able to carry them with her for many years. If you knew Charlie, you know a great man has left his family members and friends to reminisce about his quick wit and caring nature. His love for his family, country and God will carry in his loved ones. He will be missed by many but none as much as his family.

Charlie is survived by his wife, Chieko Galbreath of Waldorf and daughter, Lisa Galbreath, of Waldorf, MD; granddaughter, Abigail Vanasse; and his brothers, Christopher M. Galbreath (Lynn) of Knoxville, TN and William R. Galbreath (Jane) of Bakersfield, CA; and nieces, cousins, uncles, aunts and extended family members. He was preceded in death by his parents, William and Frances Galbreath.

Private services will be held. Interment will be held at Arlington National Cemetery at a later date.

In lieu of flowers the family would request donations be made to the National Rifle Association, at https://donate.nra.org/donate.

Condolences to the family may be made at www.brinsfieldfuneral.com

Arrangements by the Brinsfield Funeral Home & Crematory, P.A., Charlotte Hall, MD.