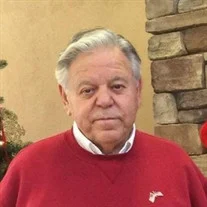 Thomas Littlejohn was born in the town of Knoxville, Tennessee on June 16, 1936. He was the first of three children to Ernest Milton and Alma Lee Littlejohn, followed by sisters, Norma Jean and Gloria Ann.

America had recently entered WWII when Alma Lee Littlejohn left her husband, Earnest in Ashville, NC. for Baltimore, MD. Tommy remained behind in the care of their landlord, Ms. Pearl Russell, a relatively wealthy widower who had long been doting over Tommy with gifts and clothing. Alma Lee's two eldest sons from her first marriage, Billy Ray and Bobby, were going off to war and she realized Tommy would be better cared for by Pearl, who herself couldn't have been happier. Pearl proved a wonderful custodian to Tommy and they remained together, eventually moving to Florida until her passing in 1953.

The following year, at age 17, Thomas Gerald Littlejohn joined the U.S.A.F., completing training in April of 1954 from Fort Samson in Seneca Lake, New York.
While visiting family on leave in Baltimore, Thomas met Judy LaVonne Day, friend of youngest sister, Gloria Ann. Tom and Judy married February of 1958 in Sumter, North Carolina. By taking a position at Elmendorf Air Base in Anchorage Alaska, Tom was able to have Judy join him and their first of three daughters, Barbara Jean, was born there in 1960, followed by Martha Ann and Terri Lynn, both born at Andrews Air Force Base in Maryland.

Thomas Littlejohn served two tours in Vietnam. His first, in 1965, consisted of the massive transferring of operations from a southern coast air base called Bien Hoa to Pleiku Air Base in the central mountains of Vietnam. Between tours, the family moved to Eglin Air Base in the Florida panhandle. Tom and Judy's marriage would end shortly after his second tour of duty at Phan Rang Air Base in 1969. Once home, he was again stationed at Andrews.

Time passed and while at the Andrews NCO Club, Tom met Marilyn Jean Windle, smitten with her blue eyes and long hair. On June 9th, 1972 Thomas and Marilyn married, raising three children, Theresa Ann, Catherine Mary and Thomas Gerald Jr. in Clinton and then Waldorf, MD. With over 20 years of service, Tom retired from the Air Force in the mid-1970s. He worked many years at Andrews Commissary and, by the late 1980s, was employed by the United States Department of Veterans Affairs in Washington, DC., eventually retiring in 1998.

In 2006, the three siblings, Thomas, Norma and Gloria united with their half-sister, Sylvia Littlejohn Norton of Louisiana.

In 2019, Tom and family united with his niece, Norma Jean's daughter, Leisa Marie and husband, Kevin Rice.

Thomas loved ice cream, watching baseball, football and collecting music to play on his portable stereo. He was reported to have made the best pancakes ever! He never missed a day, unless ill, visiting his wife, Marilyn, at the Charlotte Hall Veterans Home. After her passing, to feel close to her, Tom visited Charlotte Hall every Saturday, entertaining residents with his music collection.

Thomas was preceded in death by wives, Judy LaVonne Booth and Marilyn Jean Littlejohn; brothers, Billy Ray and Robert Creech; and sisters, Norma Jean Helm and Gloria Ann Kidd.

Thomas Gerald Littlejohn Sr. is survived by his children, Barbara Jean (David) Malloy of Pasadena, MD, Martha Ann Rembold of West Melbourne, FL, Terri Lynn (George) Babec of Seymour, TN, Theresa Ann (Brian) Leitch of Dover, DE, Catherine Mary (Rodey) Varnell of La Plata, MD, and Thomas Gerald Jr. "TJ" (Leslie) Littlejohn of Waldorf, MD; grandchildren, Brandon Leitch, Noah Varnell, Nathan Leitch, and Jonah Varnell; several nieces and nephews; and his long-lost sister, Silvia Littlejohn Norton.

A Visitation will be held on Friday, January 21, 2022 from 12:00pm until time of Funeral Service, with United States Air Force honors, at 2:00pm at Raymond Funeral Chapel, 5635 Washington Avenue, La Plata, MD 20646. Interment will be at a later date at Cheltenham Veterans Cemetery, Cheltenham, MD.

In lieu of flowers, contributions in Tom's memory may be made to the Disabled American Veterans, VA Regional Office, 1722 I Street, NW, Washington, D.C. 20421 or to the Dementia Society of America, P.O. Box 600, Doylestown, PA 18901.