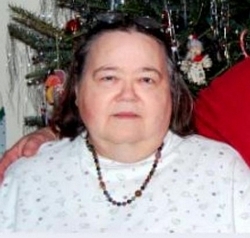 My wife, Patricia Ann Russell of Port Tobacco, Maryland, passed away on 13 November 2022 following a lengthy illness. She was 73.

She was predeceased by her mother Barbara Powers Reynolds, father Daniel Joseph Reynolds, mother-in-law Evia Peloquin Russell, and father-in-law William Dake Russell. She is survived by husband Frank "Russ" Russell, brother John Christopher "Chris" Reynolds, Sister Anne Louise Welborn, and nieces Emily Messina, Rebecca Sharp, and Katherine Steck. Pat will be remembered as a sweet, intelligent, generous, and loving wife, sister, and aunt. Per her request, there are no events planned at this time.

In lieu of flowers, please consider a donation to the National Kidney Foundation [https://www.kidney.org] in her honor.