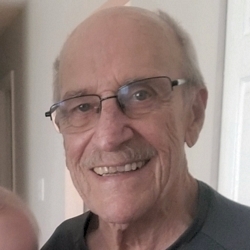 William "Bill" Butcher, 82, of Owings, Md. passed away peacefully on March 10, 2023. He was born in Bellaire, Ohio and moved with his parents and brother to the Washington D.C. area as a young boy. He was a proud graduate of Bladensburg High, University of Maryland, and Bowie State University. As a social studies teacher in Prince Georges County, he taught his students to love American history as he did. This interest in history and politics, artistic ability and his sense of humor lead to hundreds of caricatures and political cartoons that decorated his classrooms and his basement. His favorite pastime was sports, watching, playing, and coaching.

He is survived by his wife Kathy, children Brandt (Jessica), Maryn Rosenberg (Brian), J, Matthew, Lucas, Zack (Brianne), and seven grandchildren.

Arrangements are private.