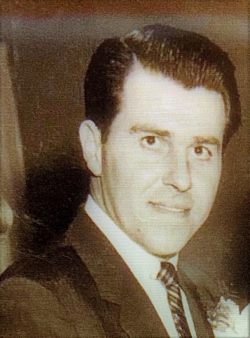 Of Solomons Island, Maryland, on Monday, March 30, 2020. Born on October 19, 1924, to the late Martin and Elizabeth Elliott in Quincy, Massachusetts; brother of the late Rita, the late Madeline, the late Viola, the late Margaret, and the late Leo. Devoted husband of the late Betty Elliott and survived by children, Robert, Jim (Brooke), and Susan Allison (Dale); and grandchildren, Steven, Mackenzie, Elizabeth, and Margaret.

In WWII, Bob flew 31 combat missions including one where the crew had to bail out behind enemy lines and returned after 30 days missing in action. He lived in Mount Lebanon, Pennsylvania for most of his life where he enjoyed a successful career in real estate sales. He is remembered fondly by so many friends and relatives for his unmatched humor, his comradery on the golf course, and for his music as a self-taught jazz pianist. He will be interred in the National Cemetery of the Alleghenies when his family can travel.

If desired, memorial contributions may be made to Hospice of St. Mary's, P.O. Box 625, Leonardtown, MD 20650 or online at https://www.hospiceofstmarys.org/ways-to-give/. Arrangements: Brinsfield Funeral Home.