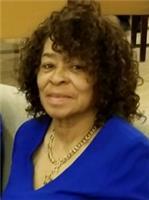 Carol Lee Thomas, departed this life peacefully on Saturday, May 23 2020 at her residence. She was encircled by her loving family and friends. Carol was born November 15, 1946 in Chaptico, Maryland to the late John A and Martha Elizabeth Thomas. She was raised in good ole St. Mary's County on a farm in Chaptico, MD.

Carol was educated in the St. Mary's County Private and Public-School system. After high school she went on to further her education by attending Business College in Washington, DC. She started her federal government service at the Pentagon and ended her federal government career with Federal Communication Commission (FCC) in May 2016 after 48 years of service. Carol received many accomplishments and awards for her outstanding and dedicated work. Carol was admired by her co-workers.

Carol was a devoted Catholic and attended Our Lady of the Wayside Church in Chaptico, MD. She was always praying the rosary and watched service when she was not able to physically attend. Some of her favorite passed time hobbies included BINGO and casino. She loved to cook for her family and friends. She was especially known for telling us our food was never better than hers. Other hobbies include watching the Game Show Network and taking trips. She loved watching her favorite baseball team the Baltimore Orioles and secretly loved the Washington Nationals.

Carol was a warm, friendly, and caring individual who loved people and especially enjoyed spending time with her family and friends. She was definitely a loving and caring person who opened her heart and home to everyone. She exemplified dignity and love through her non-selfish ways by helping family and friends in need. In fact, she would give her last in order to help anyone. She attended all family events for fun and enjoyment. Carol enjoyed being around her nieces and nephews. While she loved them all the same; we all know she had her favorites (lol).

Carol leaves to cherish her fond memories to her two daughters, Linda Thomas and Yvette Thomas, two special nephews, Steve Curtis and Martaz Thomas. Her sister, Mary "Doll" (late John Sr.) Miles, five brothers, John F. Thomas (Joanie), Louis Thomas (Geraldine), James Thomas, Sr., William "Button" Thomas, George Thomas all of Chaptico, a host of nieces, nephews, family and friends.

She was predeceased in death by her parents, sisters, Mary Curtis and Mildred "Ann" Spriggs and nephew, Marco Thomas.

The family wishes to extend their sincere thanks and appreciation to everyone for their many expressions of love and sympathy, as well as the kindness extended to them during this time of bereavement.

We love you mom and Auntie and you will be missed dearly.

Visitation will be at 10:00 am until time of service at 11:30 am on Saturday, May 30, 2020 at Briscoe-Tonic Funeral Home, 38576 Brett Way, Mechanicsville, MD. Interment will be at Sacred Heart Church Cemetery, Bushwood, MD 20618. A memorial service will be held at a later date.