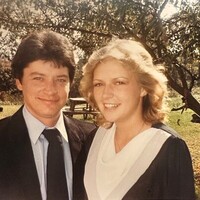 On January 14, 2023, Elizabeth Susan Peed Brickman, 63, of Leonardtown, MD, peacefully passed away.

Elizabeth, known to most as "Susie," was born on January 2, 1960, to Donald and Betty Peed in Southern Maryland.

She spent her youth working in her family's tobacco fields in Southern Maryland. Later, she worked as a Service Supervisor for the Maryland Department of Agriculture. She loved her job and retired after 18 years.

In the early 1980s, she met Daniel Brickman in Benedict, MD. They were married on May 18, 1985, and had four children, Nicole Booz of New Oxford, PA, Travis Brickman of Jacksonville, NC, Emily Brickman of Clements, MD, and Robin Brickman of Leonardtown, MD.

During her retirement, she enjoyed gardening, crafting, sculpting, painting, and especially spending time with her grandchildren who were her greatest joy.

Elizabeth was predeceased by her husband, Daniel Brickman, her parents, and her sister Rose Ransom. She is survived by her children, and her grandchildren, Kyndall, Audrey, Hunter, Benjamin, Alethea, Theodore, James, and step-grandson, Kevin. She is also survived by her brother Donald Peed Jr., and many friends.

Services are pending.

In lieu of flowers, please consider a donation to Ear Community (https://earcommunity.org/).