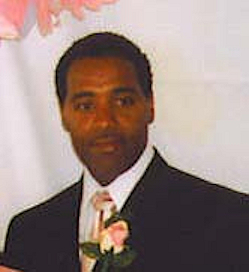 Harry Jerome Dyson, the son of Elaine Cecelia Dyson Myers and William Day was born on January 3, 1965 in Washington, D.C.

Harry grew up in Charles County, Maryland and attended the Charles County Public Schools, graduating from La Plata High School in 1984. After graduation, he became employed as a Truck Driver with Lowes in White Plains, Maryland and then Builders Supply and Lumber in LaPlata, Maryland.

Harry was an outdoorsman. He loved the outdoors so much that he became an entrepreneur in 1998, establishing his own company, Dyson's Lawn Cutting and Snow Removal Service. In addition to his love for nature, he also enjoyed building, shooting pool, hanging out with his friends, and tinkering with handyman activities.

On April 22, 2005 he married the love of his life, Patricia Ann (Patty) Gutrick whom he had been dating since May 1986. They made their home in Spring Hill, Maryland.

On Saturday, April 28, 2007 Harry suddenly departed this life for one eternal at the Southern Maryland Hospital Center in Clinton, Maryland.

He was preceded in death by his step father, Carl D. Myers and father-in-law, Roland T. "Teddy" Gutrick.

Left to cherish fond and loving memories are his wife Patricia, parents, Elaine Dyson Myers and William Day, sisters and brothers, Gwendolyn Brown, Joy (Franc) Marcel, John (Melody) Dyson, Cynthia Dyson, Robert (Sharon) Dyson, Vivian Hopkins, Yvonne Dyson and Ronald Collins; mother-in-law, Lillian Proctor, sisters-in-law, Yvonne Gutrick, Carolyn Mason, Joyce Proctor, Sheila (Lloyd) Jennifer and Dianne (Steve) Proctor; brothers-in-law, Roland Jr., Eugene (Tracy), Ronnie (Sheri) and David (Velba) Gutrick and a host of relatives and special friends.

His Viewing will be held on Friday, May 4, 2007 from 10:00 am until time of Service 12 noon at Thornton Funeral Home Chapel, 3439 Livingston Road (State Route #227) Pomonkey (Indian Head), Maryland. His Interment will be in St. Charles Cemetery in Glymont, Maryland.